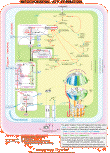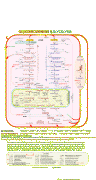 Minimaps are designed to supplement the Metabolic Pathways Charts by enlarging selected major individual pathways so as to illustrate additional aspects of metabolism such as Membranes, Compartmentation, Organs, Organelles, Shuttles and Regulation
The selection is designed to stimulate the exploration of the pathways and
Make Metabolism More Meaningful

The creation of minimaps is a valuable and stimulating educational activity for both learners and learned. Additional contributions are welcomed and, if appropriate can be used to enhance this website.

Click here to access the minimaps, which are provided in three versions: GIF, which is best for screen viewing; SVG (Scalable Vector Graphics) which are vector images and can be zoomed without loss of resolution and are searchable; PDF, which is best for printing.

In addition, EC numbers in the GIF and SVG images are linked to the IUBMB Enzyme Nomenclature list, so that clicking on an EC number will direct the user to information on the enzyme and to other related databases.